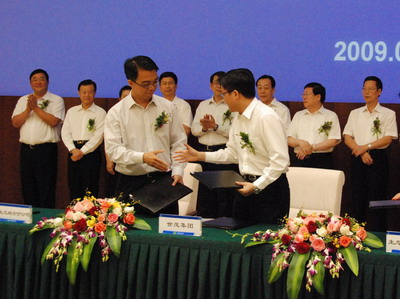 Mr Goh Chye Boon (front left), CEO of SSTEC and Mr Jason Hui (front right), Vice President of Shimao Property Holdings celebrating the start of their collaboration.

China's largest foreign-invested developer Shimao Property Holdings will be entering into a joint venture with the Sino-Singapore Tianjin Eco-City Investment and Development Co (SSTEC) involving an integrated development project that will be the largest development to date for the Tianjin Eco-City.

Located in the Yong Ding Zhou Area south of the Eco-City's 4-sq km Start-Up Area (SUA), the development will comprise about 100-ha of residential and commercial land, and 80-ha of public park space. Expected to be completed around 2014, the entire development is estimated to be home to about 10,000 households and cost RMB10 billion(2.1 billion dollar).

The "Window to the Eco-City", Yong Ding Zhou Area is an exclusive nature sanctuary with large tracts of wetlands inhabited by migratory birds. The new Yong Ding Zhou Eco Cultural Theme Park will serve as the eco-tourism hub in the Tianjin Eco-City. The integration of the theme park with high-end commercial, hotel and residential developments with sea views, will create an unparalleled experience of harmony with nature for residents as well as visitors to the Eco-City. The riverfront is envisaged to be the centre for eco-friendly leisure, entertainment, retail and other 'play' activities that will co-exist with nature. The development will also promote eco-lifestyles including the use of green transportation within the neighbourhood.

Mr Goh Chye Boon, CEO of SSTEC, is confident that the Tianjin Eco-City will continue to attract international players. He said "This collaboration marks the first in a series of partnerships with top regional developers that SSTEC will establish in 2009 and the start of realising our eco-vision into reality for Chinese residents over the next two to three years. We are delighted to work with Shimao, an internationally renowned developer and are confident that their experience and expertise in luxury residential developments, and quality commercial and hotel developments will shape this into a world-class development."

Mr Jason Hui, Vice President of Shimao said, "We believe that the Tianjin Eco-City has great potential for growth. Its unique eco-vision is a key factor in our decision to participate in the project. Sustainable development is the inevitable way forward for future city development. Our premium residential and commercial integrated project in the Yong Ding Zhou Area is a commitment to the sustainable development and to living in harmony with the environment. This is line with Tianjin's great vision of creating an eco-city. This being Shimao's first large-scale project in Tianjin, we will devote the group's best resources, and fully maximise our industry advantage and expertise in developing international waterfront residential projects and premium urban landmarks, to ensure the successful completion of the project. We are confident that with the strong support from the Eco-City and various segments of the community, this development will be a model showcasing how eco-developments can integrate all elements for residential living.