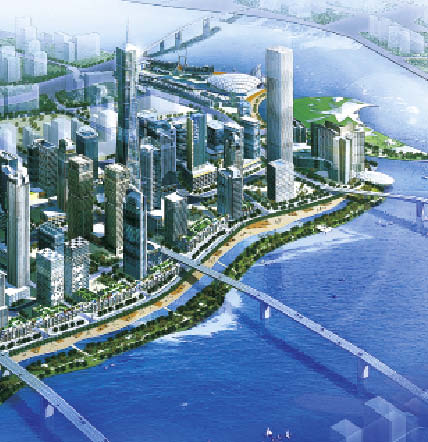 The construction of the landmark region of the development of the Binhai New Area — Xiangluo Wan Commercial Area, has been in full swing.

As the starting point of the central commercial area in the Binhai New Area, Xiangluo Wan is 3.2 square kilometers in size and sits opposite to the Haihe Bund Park to its north. It is next to the Yujia Pu Commercial Area to the east. There is a 1.5 km-long coastline in the area.

This commercial area is mainly used for building the provincial representative offices and R&D centers and commercial facilities for the State-owned enterprises in the Binhai New Area. The overall planning has laid out 38 projects, among them the 380-meter tall Fuli Plaza.

To date, 33 enterprises, such as the China Minmetals Co. and Sino Steel Co. from the regions and provinces of Inner Mongolia, Hebei and Shanxi have signed to invest in the region. The construction area of their contracted projects stands at 3.67 million square meters with a total investment of 27.5 billion yuan.

Along with the initial program, the Xiangluo Wan Commercial Area is also striving to complete infrastructural work. Main roads including the Binhe West Rd have been completed and put to use; other supporting facilities such as street lamps, landscape greens and drainage systems, too, have been installed in the area. The remedy construction of Haimen Bridge is in progress. The west bridge approach of Haihe Bridge is near completion, while the east part is installing underwater stake. The Haihe Bridge will be available for transportation within 2009.

The 400,000 square meter phase I project of Xiangluo Wan commenced in September 2007. The entire project will be completed in 2011. By that time, this area will be the new landmark in the Binhai New Area. There will be 38 skyscrapers in this commercial area, creating a new skyline. It will be the commercial circle with the functions of business, finance and tourism, which together will strengthen the power of the Binhai New Area.

This central commercial area of the Binhai New Area consists of six regions, including the Yujia Pu Financial Area, the Xiangluo Wan Commercial Area, the Jiefang Road Commercial Area, the Dagu Ecological New Area, the International Shipping Center, and the Blue Whale International Community. The overall area involved is 20 square kilometers.