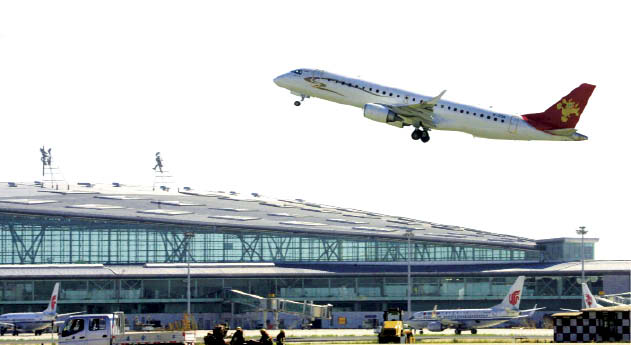 Tianjin Airlines was officially established on June 8, 2009, becoming the first local carrier of the Municipality. It made the maiden flight from Tianjin to Guiyang via Xi'an on June 10. It had a fleet of 55 aircrafts dated to July 2009, which is expected to be expanded to no less than 100 by 2012. By then the carrier will operate more than 500 air routes to connect 100 cities and provide services of 200,000 scheduled flights annually, which could handle a passenger throughput of at least 15 million person-times.
It has taken just six months to fulfill the preparation for the establishment of Tianjin Airlines since Tianjin Port Free Trade Zone signed a cooperative agreement with Hainan Airlines on December 23, 2008, which has been worshipped by the industry as "Tianjin Speed". The Airlines was renamed from Grand China Express Air. Headquartered in Tianjin Binhai International Airport, the company was registered with 1.3 billion yuan, of which Tianjin Port Free Trade Zone Investment Co. invested 200 million yuan for 15.38 percent of stakes, Hainan Airlines (HNA) Group invested 1.08 billion yuan for 83.15 percent shares while Hainan Airlines Co. invested 20 million yuan for 1.47 percent shares. Tianjin Airlines is dedicated to providing safe, convenient and comfortable air services to the passengers with its advanced aircraft fleet, comprehensive air network, intensive flights, convenient transition services and considerate on-board and ground services. According to HNA Group's long-term plan, its transportation system with a combination of primary and regional routes will gain strong momentum in the future.
Dated to July, Tianjin Airlines had flied on more than 80 routes linking no less than 70 cities with an 85 percent passenger load on average. It plans to launch more on-board and ground services with Tianjin characteristics to build a quality aviation brand. It designs to fill the blank of the Tianjin airport by providing more frequent flights to connect the circum-Bohai Bay area more sufficiently, including flights between Tianjin and Dalian, Tianjin and Qingdao, Tianjin and Weihai as well as Tianjin and Yantai. In terms of services, the airlines will further highlight the city's characteristics. Besides the famous traditional snack fried dough twist produced by "Shiba Jie", the company plans to serve the passengers on board with more famous local food, including Haihe Milk and "Go Believe" — branded steam stuffed bun. It will also strengthen the cooperation with large agents in different Chinese cities to spread its sales outlets and ticket offices to nationwide in the future.