Tasly was founded on May 1994. Through decades of development with Great Health industry as guideline and pharmaceutical industry as its center, Tasly has become a hi-tech group whose scope of business includes modern TCM, chemical medicine, biological medicine, healthcare products, functional food, covering the fields of research and development, planting, manufacturing and distribution. By the end of 2007, the total asset had grown to 8.5 billion RMB, and taxes accumulated to 3.7 billion.
| | |
| --- | --- |
| | |
Tasly made constant efforts to promote innovation on scientific research and self-improvement, in order to build up core competitiveness. A modern TCM system has taken shape step by step, which is composed by anti-virus medicine, anti-flu medicine, cardiovascular medicine, cerebrovascular medicine, and anti-tumor medicine, immune system medicine, digestive system medicine. Cardiotonic Pill, Nourishing Blood &Cleaning Brain Granule and Chuanxinlian Lactone Dripping Pill became well known in TCM market. The sales amount of Cardiotonic Pill exceeds 1 billion RMB for four consecutive years, which enable this medicine to rank first on the annual sales amount of single Chinese medicine.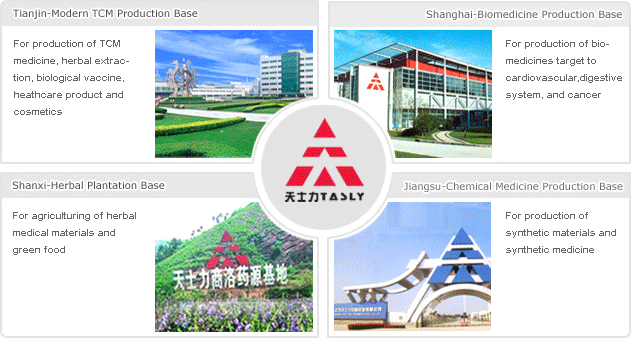 Tasly always sticks to the strategy of intellectual property rights protection. In year 2004, Tasly was awarded as 'excellent enterprise of intellectual property rights protection work'. By the end of 2006, Tasly had applied for 694 intellectual property rights, which includes 599 patents of invention, and 22 international PCT patents.
In recent years, Tasly's strategy of internationalization is being conducted in full swing; key regional markets have taken shape in Southeast Asia, Europe, North America and Africa. Its major products have registered in 34 countries and regions, and Cardiotonic Pill undergoes FDA and EMEA Phase II and Phase III clinical trials. In 2006, the overseas branches earned $31.58 million in sales, and $6.97 million foreign exchange through self-run export.
Tasly has already set up national technological center for enterprises and national postdoctoral scientific research station, and also has taken on more than 40 key scientific researching programs on national level. Tasly Modern TCM Garden is listed as the exemplary project of national hi-tech industrialization. Besides, its information project is also listed into the national key plan. The enterprise has received numerous awards, such as 'excellent enterprise of Tianjin', 'pioneering enterprise of ideological construction', 'top 10 industrial enterprises with self-innovation and creation', etc. All these honors and awards exhibit that the trademark 'Tasly' is becoming more and more popular not only in China, but also around the world.