The Jixian County mountains in north Tianjin make a back garden of Tianjin and Beijing, also a green sightseeing and entertainment resort, integrating famous mountains, quiet forest, beautiful water, grand gate and ancient temple into one entity, boasting Panshan Mountain and Huangyaguan Great Wall, etc. Tianjin Tropical Arboretum at Xiqing District, Regal Riviera Hot Spring Resort at Baodi District, Baocheng Museum at Jinnan District, are all ideal places for tourists to return to nature for leisure and entertainment.
Recommended Routes:
1st day: Move to Jixian County, visit Dule Temple——Climb Panshan Mountain——Visit Huangyaguan Great Wall; Move to Baodi District, visit Baodi Yufo Palace——Visit Regal Riviera Hot Spring Resort
2nd day: Move to Xiqing District, visit The Shi's Grand Mansion——Visit Yangliuqing New Year Paintings Hall——Visit Diliubu Agricultural Touring Park
Panshan Mountain: Located in the northwest of Jixian County, it's a national 5A class touring sight, famous for Pines in Upper Winding Area, Stones in Medium Winding Area, Water in Lower Winding Area. The Guayue Summit (Moon-Hanging Summit) is its highest peak, with an altitude of 856.8 m, and was ever listed as one of the Top 15 Famous Scenic Spots of China, and enjoys a title of the First Mountain East of Beijing. TheEmperor Qianlong visited Panshan Mountain for 32 times, and thus commented on it: If I had known the existence of Panshan Mountain, I wouldn't have gone far away to across Yangtze River.
Dule Temple: Located in the west of Jixian County, it's a 1000-year-old ancient temple, built in Tang Dynasty and rebuilt in the 2nd year of Tonghe Period (984) of Liao Dynasty. Now it becomes a national 4A class touring sight and a key national cultural protection unit. The 16-meter-high Bodhisattva statue in Kwan-yin Pavilion, its main building, is the largest clay statue well-preserved in China.
Limutai Scenic Area: Located among high mountains and lofty peaks of northeast Jixian County, it's a scenic spot with special features of Jiulongshan National Forest Park. The peaks, forest and valleys here are grand and dangerous, the strange peaks and stones twist and turn, profound forest is quiet and serene, the ponds, fountains and brooks are loquacious. It's known as North Shennongjia Forest.
Shiqu Garden: Located at the foot of Panshan Mountain, it boasts the largest Wanfo Temple featuring Triratna (Buddha, Dharma and Sangha) east of Beijing, as well as numerous strange stones full of fun, and rock painting of 87 Deities Volume carved on a stone bank, which was granted with a certificate by Shanghai Great World Guinness Record.
Jiushanding Mountain: Located at Changzhou Village, Xiaying Town, Jixian County, it's the highest mountain in Tianjin with an altitude of 1,078.5 meters. Jiushanding Mountain is the best representative of the standard geographical layer of Middle-Upper Proterozoic in National Geological Protection Zones. More than 1,200 kinds of wild plants and 70 kinds of wild animals are distributed here.
Jiulong Mountain: Located at 20 km away from east of Jixian County, it's a national level forest park and a geological park, incorporating forest spot and geological and cultural sight into one entity. It's named Jiulong Mountain because nine mountain ridges are connected with each other in deep valleys here, like nine dragon heads gathering together. Its total area is 21 thousands Mu, with above 95% forest coverage.
Huangyaguan Great Wall: Built on the ridge of faultage of Jixian National Geological Park, it's in the first batch of National 4A class touringsights, and also a world culture heritage. Huangyaguan Great Wall was built in the 7th Year of Tianbao period, Beiqi Dynasty (557), and was rebuilt and expanded in large scale in Ming Dynasty. To its east is Malan Gate, Zunhua County, Hebei Province, and to the west it is connected with Jiangjun Gate, Pinggu District, Beijing, with a total length of 42 km. There are defensive works, e.g., fi ghting platforms and hathpaces, side defensive castles, Bagua castles, old villages and troops bases, water gates and smoking signal terraces as well as the Forest of Steles and Exhibition Hall of Excellent Couplets, etc. Since 1999, International Marathon Racing Tour has been held here each spring.
Baxian Mountain: Baxian Mountain is located 35 km to the northeast of Jixian County. Its original name was Baxian Table, since it's said that eight immortals once visited the East Sea via this place, and were attracted by its odd peaks, quiet forest and beautiful water. They descended from the sky, took a rest and had a picnic by a huge stone. Later people named this stone Baxian Table, thus this mountain with ten thousands Mu forest got the name Baxian Mountain.
Middle-Upper Proterozoic National Geological Park: It starts from Jiushanding Mountain in the north, to Fujun Mountain in the south, to Baxian Mountain in the east, and to Panshan Mountain in the west. With an area of 342 km2, it was approved and built by the Ministry of Land and Resources of China in December 2001, the only national geological park that records geological history of earth revolution of Middle-Upper Proterozoic in China. It's measured that the geological age of section plane is about 1.95 billion years old.
Jizhou Cave: 12 km from the county seat of Jixian County, connected with Jinhai Lake to the north, facing Panshan Mountain at west, it's connected in line with Huangyaguan Great Wall. The developed area is 30,000 m2 till now. The cave is up to 1,400 meters long, and 15 meters at the widest place. The road in the cave is like a labyrinth and varied stalactites are formed naturally, which constitutea scenic wonder.
Yulong Skiing Resort: Located in the north of Jixian County, the site is equipped with complete facilities, e.g., ski, ski suit, etc.,and has clear classification of different areas, such as skiing zone, snow viewing zone and snow fun zone, etc. Skiers can not only fully experience the exciting fl y-skiing on snow and appreciate the scene of mountains in snow, but also enjoy the fun of making snowmen and throwing snow balls with family members or friends.
Maojiayu Changshou Resort: It is located at Chuanfangyu Township, Jixian County. To the north is Jiulong Mountain, to the south is Cuiping Lake across a mountain and to the east is Dongling Mausoleum of Qing Dynasty. It features one hundred million-year old stones, ten thousand mu forest, one thousand mu fruit garden, one hundred- year-old trees and long-lived people. Here you can enjoy farmer meals and farmer accommodation, with endless fun.
Cuiping Lake: Located in the east of Jixian County, it's named for it's backed by Cuiping Mountain. The lake is 30 km long from east to west, 8 km wide from south to north, with a vast water area and surrounded by mountains. With a rich variety of trees is a natural habitant for various rare birds , and also a leisure spot for summer visitors. throwing snow balls with family members or friends.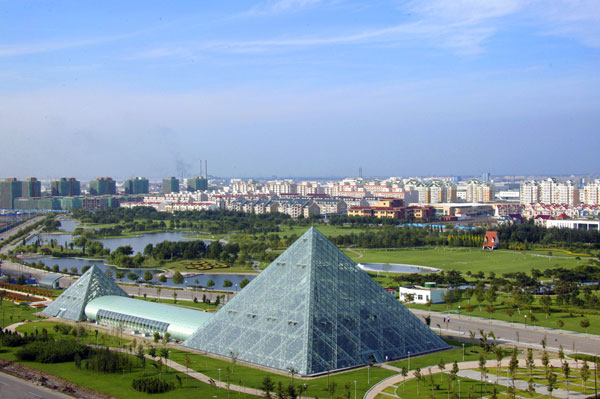 Tianjin Tropical Arboretum: It's located by Caozhuang Flower Market, Xiqing District, the hometown of tuberose of China, and the largest fl ower distributing center in north China. Its total investment was RMB 260 million and has a building area of 40,000 m2. Combining sightseeing and entertainment, leisure and shopping, education and science into one entity, it's the largest in-house arboretum in Asia. There are thousands of kinds and hundreds of thousands of tropical and subtropical plants in the arboretum, including the most valuable trees, e.g., the highly toxic Antiaris toxicaria, rare Jatropha Podagrica, Phoenix canariensis, Dracaena draco, etc. The tropical climate is created with moderngreenhouse technique, thus original rainforest scene is presented. It's a oneday touring site appropriate for any season.
Regal Riviera Hot Spring Resort: It is located at Zhouliang Village, Baodi District, adjacent to JinJi Expressway. It has outdoor hot springs which are among the largest in Asia, and is rich in underground heat, with a volume of up to 8 billion cubic meters, and water temperature is as high as 96℃ and its water is clear and rich in many minerals, e.g., Lithium, Strontium, Zinc and metasilicate, etc., full of medical value. The resort is a new comprehensive hot spring leisure and sightseeing spot equipped with complete facilities of accommodation, restaurant, recreation and shopping.
Tuanbohu Scenic Area: It is located in the east of Jinghai County, with a fl oor area of 57.2 km2. The water volume stored in the lake is 180 million cubic meters, and water area is 51.3 km2. It's a large plain reservoir built in 1978. It boasts wide water surface, vast fog and waves, numerous reeds and fi sh as well as tranquil environment. Here are over 60 varieties rare birds, such as mandarin ducks and trochilus, etc. It's Tianjin Birds Natural Protection Zone. It features underground heat resource of up to 8.4 billion cubic meters, 900 meters to ground surface, whose water temperature is 82℃ , rich in 24 kinds of trace elements that are benefi cial to our body, and has high medical and healthy value.
Yangliuqing New Year Paintings Hall: Located west of Mingqing Street, Yangliuqing Town, Xiqing District, it was originally An's Ancestral Temple, built in 1720. After large scale rebuilding, the Yangliuqing New Year Paintings Hall was established and opened formally on 28th Sept. 2003, exhibiting the history, representative works of each period and preparing processes, etc. of Yangliuqing New Year Paintings, as well as on-site hand painting. It's welcomed by visitors at home and abroad for its exquisite sculpture, fi ne painting, bright colors, vivid images and propitious meanings, etc.
Fengshan Yaowang Ancient Temple: Located at Wangcun Village, Dasi Town, Xiqing District, it was built in the 2nd year of Yongchun Period, Tang Dynasty (683) and rebuilt in 1997, with a fl oor area of 10,000 square meters. The temple is composed of gate, front hall, medium hall, back hall, side halls at east and west, clock tower and drum tower. Chinese medical masters' statues are enshrined here. The temple also boasts rare birds park, Medical Master Lake Park and holiday villa, etc. Now it has become a touring resort featuring cultures of folk customs, history, religion, recreation and resorting.
Yangliuqing Xinsannong Country Estate: Located east of Yangliuqing Town, Xiqing District, it occupies an area of 670,000 m2. It integrates various functions, such as ecological planting, breeding, picking, farm accommodation and food, close contact with animals and fishing, etc., into one entity, and is a comprehensive ecological leisure and touring spot for entertainment, conference, restaurant and accommodation. Visitors here may fully enjoy rural touring fun, live at farm house, taste natural green food and appreciate natural farm sight.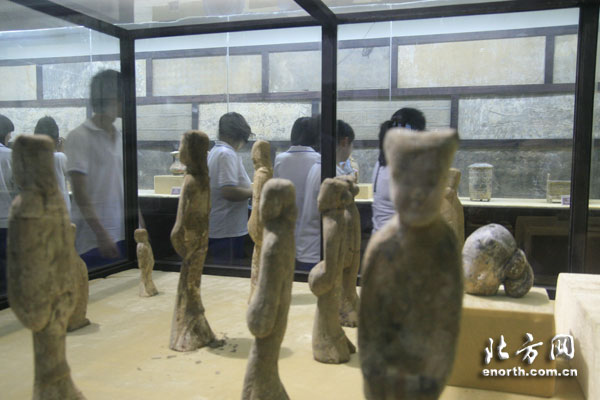 Baocheng Museum: Located to the south of Erdaozha Gate, Haihe River, Jinnan District, with a floor area of over 170,000 m2, it's the largest Stone Culture theme sightseeing spot in China, and also a national 4A class touring site. Ancient Stones, Ancient Trees and Ancient Buildings form a organic whole. It consists of Rare Stone Park, South China Park, Lingbi Stones Garden, Baocheng Museum and Folk Custom Museum.
Chinese Stone Park: Located at Weishan Road, Hexi District, with a fl oor area of 40,000 m2, it was designated as the largest privately-built stone collection park by the headquarter of Shanghai Great World Guinness. The park is Tianjin Fine Arts Academy creating base and Tianjin scientific education base.