In modern times, Tianjin was one of the fi rst cities in China to get in touch with western civilization. Many foreign style buildings with various features were built and reserved, especially the historical building complex represented by Wudadao Outlandish Tourist Area. Since the Revolution of 1911, Tianjin had again become the national "political backyard". The presidents and premiers of the beginning of the Republic of China moved to Tianjin one after another, and some revolution forerunners also once lived in Tianjin. Each residence of those celebrities carries a history and a story, recording the touring resources of China modern history and culture, which make Tianjin the best channel for tourists to understand modern China.
Recommended Routes:Visit The Five Avenus (Jingyuan manor, Zhangyuan Manor)——Visit Italian Style Area (Macro Polo Plaza, Austro Hungarina Counsular)——Visit Astor Hotel——Visit Jiefangbeilu Financial Street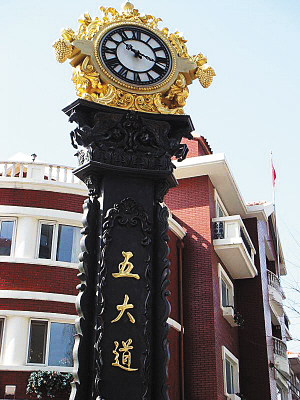 The Five Avenus: It refers to the rectangle area to the south of Chengdu Road, north of Machang Road, east of Xikang Road and west of intersection of Machang Road and Nanjing Road, featuring over 2,000 garden-style foreign buildings built in the 1920's and 1930's, which include over 300 varied buildings and residences of celebrities. It enjoys the title of Universal Buildings Expo. with unique features. Cao Kun and Xu Shichang, presidents of the Republic of China, as well as many premiers of Peiyang Government, hundreds of celebrities at home and abroad, e.g. Hoover, former president and Marshall, former Secretary of State of USA, once lived here.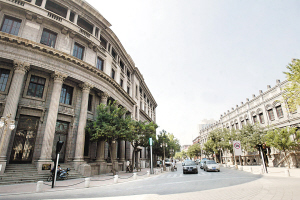 Jiefangbeilu Financial Street: Adjacent to Haihe River, started from Jiefang Bridge at northwest, to Xuzhou Road and connected with Jiefangnan Road at southeast, it was once a gathering area of foreign banks, and enjoyed the title of Oriental Wall Street. Today it's still one of gathering areas of Tianjin fi nancial institutions. Dozens of various style buildings here are over one hundred years old, where tourists may experience the development of modern finance industry of Tianjin, and even China. The project of Tianjin Finance Town, Jiefangbei Road being axle, has been formally initiated and will become a comprehensive fi nancial service area with opened and intellectualized style.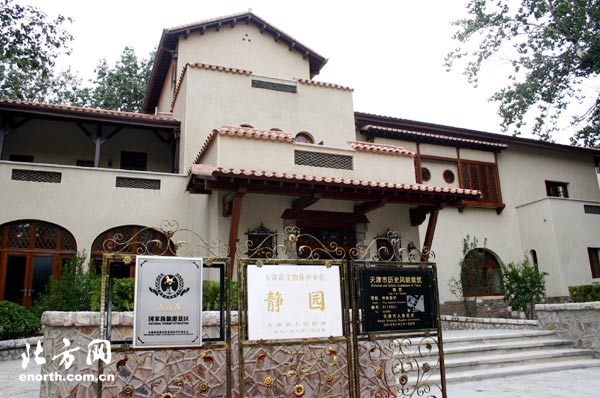 Garden of Serenity: Located at 70 Anshan Road, Heping District, it's the former residence of Asin-Gioro Pu Yi, and now a cultural building with special protection class and a cultural protection unit of Tianjin. It was built in 1921 with original name of Qianyuan Manor. In July 1929, Pu Yi moved here with Wan Rong, his empress, and Wen Xiu, his concubine, and renamed it as Garden of Serenity, meaning its tranquility supporting his noble spirit. The manor boasts winding roads and long corridors, strange stones and clear spring, a Spanish brick-wood structure building with one-storey houses at its two sides and a veranda at its by-side connected with the west of the main building, as well as an auxiliary building at its backyard. In the manor, there is Asin-Gioro Pu Yi Exhibition Hall, exhibiting hundreds of pictures and articles of literature, recording the romantic life of Pu Yi from an emperor to a common citizen, and showing his main activities when living in Tianjin.
Liang Chi-chao Memorial: It is located at 46 Minzu Road, Hebei District. Liang Chi-chao (1873-1929), with courtesy name Zhuo Ru, is an ideologist, politician and academic master. He lived in Tianjin in 1915. The memorial consists of two parts, i.e., Former Residence of Liang Chi-chao and Yinbingshi, representing the living and academic environment of Liang Chichao at that time. There are exhibitions themed as Liang Chi-chao and Modern China, integrating many rare historical materials of photos and literatures.
Former Residence of Zhang Xueliang: Located at 78 Chifeng Road, Heping District, it was built in 1921, consisting of two buildings with brick structure at front and back. Zhang Xueliang (1901— 2001), once worked as deputy commander-in-chief of the national land, navy and air forces. He resolutely initiated Xi'an Incident to promote overall fighting against Japan in 1936, which shocked home and abroad. He contributed eternal service for our national liberation. He lived here for a long period when he visited Tianjin during the 1920's and 1930's.
Garden name after "Zhang": Located at 59 Anshan Road, Heping District, it was built in 1916. It was originally the private garden of Zhang Biao, prefect of Hebei Province at the end of Qing Dynasty. Sun Yat-sen and Pu Yi once lived here too. There are long corridors, pavilions, rockery and lotus ponds in the garden, and was named as Luxiang Garden (Dew Flavor Garden). It's also named Zhang Yuan Manor since its owner had a family name of Zhang. In Dec 1924, the couple of Sun Yat-sen and Song Qingling arrived at Tianjin to realize China union and lived at Zhangyuan, where he published the Sun Yat-sen Announcement after Arriving in Tianjin, and drafted 25 articles of opinions on China establishment.
The Shi's Grand Mansion: Located at the center of Yangliuqing Town, Xiqing District, it was originally the residence of Shi Yuanshi, the fourth son of Shi Fangcheng, one of the Eight Great Families of Tianjin City of Qing Dynasty. Built in 1875 and with a floor area of over 10,000 m2, it's a large scale civil residence kept well and with unique features of Qing Dynasty in north China, and is titled as the No.1 Residence of North China. Today it becomes a Key National Cultural Protection Unit and a National Touring Site of 4A Class. The Tianjin Yangliuqing Museum, built here in 1991, is a dedicated museum presenting civil architecture art and north folk culture of Qing Dynasty, showing exhibitions of Brief History of Yangliuqing New Year Paintings, Tianjin Brick Sculpture, Tianjin Folk Culture and Shi Residence Recovery, etc.
Xiaozhan Troop Training Park: Located at Xiaozhan Town, Jinnan District, it has been the site where Yuan Shikai trained Newly-built Ground Force. Today in the park, rampart, Wushu Lecture Hall, New Troop Training Land, barracks and field headquarters of Yuan Shikai as well as Xiaozhan Troop Training History Hall, Military Museum, theater and field shopping street, etc. are built. Auxiliary facilities, such as touristservice center, resting area, etc., are also available.
Tianjin Boxers Memorial: Located at the cross of Jieyuan Road and Yihua Road, Hongqiao District, it's the only boxer rebellion memorial well kept till now in China, also a key national cultural protection unit. Here was originally the Taoist temple where sacrifi ces were offered to an immortal Lu Dongbin.Thus is named as Luzutang after rebuilt in Kangxi Period of Qing Dynasty. Boxer Rebellion Campaign broke out in 1900, whose head, Cao Futian, set up an altar at Luzutang. Thus here became the center of Boxer Rebellion Campaign. It was renamed as Tianjin Boxer Rebellion Memorial after rebuilt in 1985. There are exhibitions of Boxer Altar, Boxer Leaders Meeting Hall, Brief Boxer History and Boxer Tianjin Campaign, etc.
Huo Yuanjia Memorial: Located at Xiaonanhe Village, Jingwu Town, Xiqing District, it was built to remember Huo Yuanjia (1868—1910), modern Chinese Wushu master, patriot and the founder of Jingwu Sports Federation. The memorial consists of two parts, i.e., former residence and cemetery, exhibiting Huo's weapon, stationery and photos, as well as rare cultural relics of the fl ag and badge of Jingwu Sports Federation. Huo's coffi n was transferred to the cemetery in 1989. The Spirit of Upholding Wushu inscribed by Mr. Sun Yat-sen in Chinese for the Jingwu Sports Federation was carved on the white marble arch of Huo's cemetery.