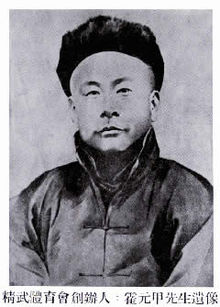 Huo Yuanjia
  Huo Yuanjia (1869-1910) was born in Xiaonanhe Village (now in Nanhe Town, Xiqing District,Tianjin). Nanhe Town was renamed to Chin Woo Town on January 18, 2009 to commemorate Huo.
  Huo was born into a family practicing Mizongquan, a kind of martial arts developed from his ancestors with his father Huo Endi being the sixth-generation descendant. As the second son of his family, Huo was born weak and susceptible to illness. Due to his frail frame, his father discouraged him from learning the art. But Huo had great aspirations and kept practicing secretly. Later on his father discovered his gift and taught him with painstaking efforts. Finally Huo absorbed the quintessence of Mizongquan.
  In 1900, Huo's close friend Wang Zibin, nicknamed Dadaowangwu (Broadsword King) was beheaded in public by theEight-PowerAlliedForces. Upon hearing the news, Huo left for Beijing to look for Wang's chopped-off head and managed to make the martyr's head and body buried together.
  In 1901, Huo responded to a challenge advertised by a Russian wrestler, who kept spreading words humiliating the Chinese. The Russian man forfeited when Huo accepted his challenge and later made an apology in the newspaper for his earlier remarks. In 1909, the British boxer O'Brien, a Hercules posed a challenge in Shanghai by openly calling the Chinese "weak men of the East". Huo traveled to Shanghai with his friend Nong Jinsun to accept the challenge. Intimidated by Huo's fame, O'Brien opted to quit before the competition.
  In 1910, Huo founded the Chin Woo Physical Training Center in Shanghai, the forerunner of the non-governmental sports organization Chin Woo Athletic Association. Later when invited by the Japanese Judo Association to a competition with dozens of Judo experts, Huo defeated them all. After the competition, seeing Huo suffer from constant coughing, the Japanese got revenge on him by recommending some medicine which could cause chronical damage to the lung. As a result, Huo died of severe poisoning on September 14, 1910 and was buried in the northern suburban area of Shanghai. And his tomb was relocated to Xiaonanhe Village, his hometown, the following year.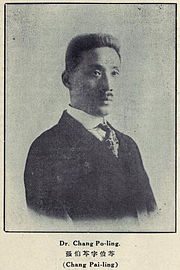 Zhang Boling
  Zhang Boling (1876-1951) was born in Tianjin. As a cadet officer, he graduated from the Beiyang Fleet. In 1898, he was invited by the reformer Yan Xiu to teach in Yan's family school. Zhang and Yan later became the first in Tianjin to initiate private schooling. In 1901, Zhang doubled as a teacher in the family school of Wang Kuizhang, a salt businessman. In 1904, Zhang and Yan left for Japan to survey its education. Upon return, they merged Yan's and Wang's family schools to form a private high school which was later renamed Jingye Private High School and in 1907, Nankai Private High School.
  In 1917 Zhang pursued his studies at the Teachers' College of Columbia University in the United States where he learned the operation of private universities. Upon returning from the U.S. the following year, he established a school buildingat the southern depression of Nankai Private High School—the embryonic form of Nankai University. And October 17, 1919 witnessed the official founding of Nankai University. Zhang founded Nankai Women's High School south of today's Nankai Stadium in 1923 and Nankai Primary School at Nankai Simalu Road in 1928. After surveying some western countries' education in 1929, he set up Nanyu High School in the area of Shapingba of Chongqing in Southwest China in 1936.
  In July, 1937, Nankai University was bombed out by the Japanese invaders. It was transferred to Kunming to form the National Southwestern Associated University with Peking University and Tsinghua University. Later on, Zhang was elected member of the Standing Committee of the University Administration. In 1938 he was elected councilor of Chiang Kai-shek's National Government and vice-chairman of the then legislature. Thereafter in 1945 he attended the Sixth National Congress of the Kuomintang in which he was elected supervisor of the party central committee. And in 1948 he was appointed head of the examination authorities of Nanjing Regime and took office in July. At the end of that year, discontented with the corruption and darkness within the government, he pretexted sickness and left for Nankai High School in Shapingba. Before Chongqing was liberated, Zhang declined several requests by Chiang Kai-shek to work in Taiwan. In May, 1950, Zhang and his wife landed in Beijing under Premier Zhou Enlai's arrangements.
  On September 15, 1950, the couple returned to Tianjin and lived with the family of their third son in a rented house at 87 Dali Road (now 39 Dali Road, Heping District). Zhang passed away on February 23, 1951.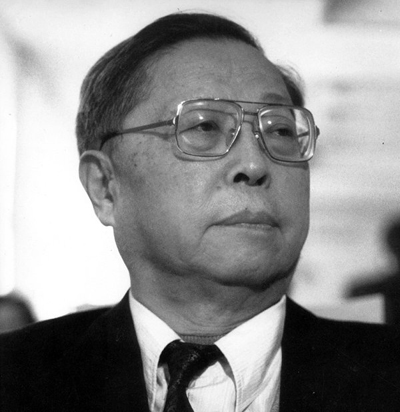 Cao Yu
  Cao Yu (1910-1996) was born into a western-style residence at 28 Via Vincenzo Rossi Road (now Minzhu Road, Hebei District) in the Italian concession of Tianjin. His father once worked as secretary to Li Yuanhong, Republic of China's President.
  Cao took interest in literature and drama at an early age. In 1924 he began his studies in Nankai High School where he often took acting roles in a number of famous western works and was the drama editor of Nankai Biweekly, a literarymagazine hosted by the school. In 1928 he matriculated at the Department of Political Science of Nankai University but transferred the next year to Tsinghua University where he studied until graduation in 1934 with a degree in western language and literature. During his university studies, Cao immersed himself in western literature as well as some eastern and western philosophical works. During his last year at university, Cao completed his maiden work—Thunderstorm which began to be created in high school and took him several years. The full-length play not only established him as a master of modern drama in China but also marked the maturity of the Chinese drama.
  In 1935, Cao produced another full-length play—Sunrise when he lived in Tianjin. Besides, he composed some other excellent plays like The Wilderness, Peking Man, The Family (adapted from Ba Jin's novel). In his lifetime, Cao also translated the great playwright William Shakespeare's masterpiece Romeo and Julietinto Chinese. And many of his works have been translated into English, Japanese and Russian.
  After the founding of the People's Republic of China in 1949, Cao took on the role of director of Beijing People's Art Theatre and head of the Chinese Dramatists Association. He died in Beijing on December 13, 1996.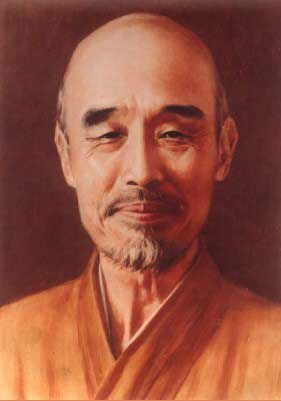 Li Shutong
  Li Shutong (1880-1942) was born in Tianjin. He was a master of painting, music, drama, calligraphy, engraving and poetry. As a renowned artist and art educator in modern China, Li was a celebrated Buddhist monk of the Vinaya School under the monastic name of Hongyi.
  In 1905 Li took up some roles in LaDameauxcamélias andUncleTom'sCabinduring his studies in Japan and was considered as an initiator of modern drama in China. In 1906 he initiated Music Magazine. After returning from abroad, Li began to teach painting and music in Zhejiang Normal College and Nanjing Advanced Teachers' College. During the period, he composed some songs like Spring Outing and Early Autumn and adapted some foreign songs into Chinese ones like Farewell and West Lake through changing their lyrics, which served as an enlightenment to the early art education in China.
  In August, 1918, Li took the tonsure and became a Buddhist monk in Hupao Temple of Hangzhou. As a monk, he enjoyed the life of being a vegetarian, praying to Buddha and practicing Ritsu. In terms of art life, Li practiced calligraphy which could best be described as unique and unsophisticated. From 1920 to 1933, he devoted himself to revising Nanshan Ritsu, a sect of Buddhism, into the Four-Part Monastic Precepts by arranging its summaries in a table form. Besides, he also punctuated the Nanshan Manuscript, compiled the Ancestral spectrum of Nanshan Daoxuan Law, and finished the sequel of pratimoksa Karma. In 1934, Li set up a Buddhism reflection center in South Potalaka Monastery and began to nurture young disciples there. He was invited to Zhanshan Monastery in Qingdao to preach in the early summer of 1937. When Xiamen fell into the Japanese invaders' hand in May, 1938, Li was determined to stay in the city by declining the advice to evacuate to the rear area and continued to preach there. He passed away at Quanzhou Geracomium in Fujian Province on October 13, 1942. In 2000, Tianjin Office of Chorography compiled the Story of Master Hongyi to commemorate the 120th anniversary of the Master and dearly cherish the memory of him.
  Zhou Enlai
  Zhou Enlai (1898-1976), whose ancestors originally came from Shaoxing in Zhejiang Province, was born in Huai'an, Jiangsu Province. He came to Tianjin with his uncle Zhou Yigeng in 1913 and was later enrolled at Nankai High School. Due to Zhou's outstanding academic performance, the school's initiators Yan Fansun and Zhang Boling thought highly of him and exempted him from tuition fees, making him the only student to enjoy such a privilege. In the school's Graduation Albums were the following comments about him: "Zhou is gentle, honest and passionate who values friendship and spares no efforts in helping his friends out". Between 1917 and 1919, he furthered his studies at Meiji Law School in Japan.
  In April, 1919, Zhou threw himself into the May Fourth Movement immediately after he returned from abroad. He initiated the Tianjin Students Union Bulletin, acted as an editor in chief and published many articles, which soon rendered him the leader of the student movement in Tianjin.
  In 1919 Zhou was enrolled at Nankai University where he established the "Awakening Society", a revolutionary group to spread the awareness of progress. On January 29, 1920, Zhou was arrested for organizing thousands of students to present a petition in front of Tianjin Governor's Office. And on July 17, he was released thanks to the struggle and mediation of the society members.
  In November, 1920, Zhou went to France for a work-study program under the sponsorship of "Yan Fansun Scholarship". During the study there, as a special correspondent of Tianjin's Yi Shi Bao, he dispatched back to Tianjin over 50 news reports in about 250,000 words under the pen name of "Enlai".
  After the founding of the People's Republic of China, Premier Zhou inspected Tianjin and returned to Nankai High School and Nankai University as an alumnus for several times. He spared some time visiting the Tianjin delegates over the first session of the 4th National People's Congress in 1975.
  Tianjin erected a huge statue of Premier Zhou on the campus of Nankai University, kept the site of the "Awakening Society" intact and built the Zhou Enlai & Deng Yingchao Memorial to commemorate the beloved premier who bore close and inextricable relationship with the city and its people.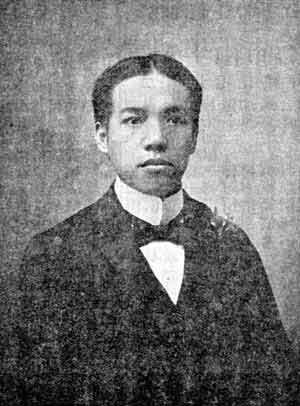 Liang Qichao
  Liang Qichao (1873-1929) was born in Xinhui, Guangdong Province. In his youth, Liang launched the Hundred Days' Reform with Kang Youwei and after its failure was exiled to Japan where he was committed to promoting China's constitutional monarchy.
  In November, 1912, Liang came back to Tianjin from Kobe. Upon his return, the then President of Republic of China Yuan Shikai as well as the country's old and new Republicans made strenuous efforts to draw Liang over to their sides. Asked by Yuan to set up a party to compete against Kuomintang, he took the chance to claim 500,000 yuan as funds from Yuan. On December 9, Liang founded Yong Yan Bao in Tianjin. Meanwhile he had a Chinese style building constructed at 25 Via Marco Polo Road (now Minzu Road, Hebei District) in the Italian concession of Tianjin and moved in upon its completion in 1915. Thereafter, he had a two-storey Italian style building erected to the west of the Chinese style one. And the two-storey building collected more than 100,000 books and was named "Yin Bing Shi", literally Ice-drinker Studio.
  In 1915, Liang published several articles in Jing Bao, Guomin Bao and Asia Bulletin to express his strong condemnation towards the Japanese invasion when he learned the contents of the Twenty-One Demands which finally resulted in two unequal treaties with Japan.
  On July 14, 1917, Liang was appointed as Treasury Governor in Duan Qirui administration. At the end of that year, he resigned from his post, returned to Tianjin and devoted himself to tablet inscription. In 1918, he initiated the "Pine Society" which aimed at practicing ethics and cultivating moral character through reading. And in September, 1921, Liang began to lecture on the History of Chinese Culture in Nankai University.
  Liang lived in Tianjin for 14 years during which he dedicated himself to academic research and turned out many works. In Yin Bing Shi, he composed over 60 academic works including the Philosophy of Laozi, the History of Political Thoughts in the Pre-Qin Period, the Academic History of Modern China, the History of Chinese Culture andthe Methodology of the Chinese History.The 148-volume Collected Works of Yin Bing Shi, totaling 14 million words, was a spectacular cultural heritage Liang left to the Chinese people.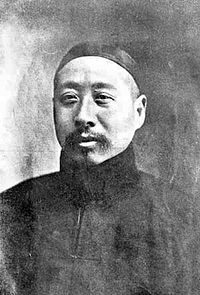 Zhou Xuexi
  Zhou Xuexi (1865-1947) was born in Jiande (now Dongzhi County), Anhui Province. He was the founder of Kailuan Coal Mining Administration, Qixin Cement Corporation, Huaxin Textile Company and Yaohua Glass Corporation.
  In 1906, Zhou set up Beiyang Quanye Ironworks in Tianjin and took back Tangshan Fine Cotton Soil Factory seized by the British colonizers through arduous negotiation. Then basing on the factory, he established the government-supervised and merchant-managed Qixin Cement Corporation Limited which was the first cement production enterprise created by the Chinese in modern China. In 1907 Zhou started Beiyang Luanzhou Mining Corporation Limited and in 1908 he was commissioned by the Qing authorities to take charge of the tap water supplies in Beijing. From 1903 to 1908, Zhou rose to fame due to his great efforts to revitalize the industry and commerce and was conferred as Yipin, the highest official in the Qing Dynasty.
  In 1919, Zhou founded Huaxin Textile Company and Tianjin Huaxin Cotton Mill. Later that year Qingdao Huaxin Cotton Mill and Tangshan Huaxin Cotton Mill were successively built and put into production, which laid the foundation for the textile industry in North China and drastically altered the layout of China's textile industry. Besides, he initiated the Tianjin-based China Industrial Bank with Yongning Insurance Company attached to it.
  During the first 20 years of the 20th century, Zhou became a world famous entrepreneur through his strenuous efforts. Based in Tianjin and radiating North China, the Zhou Enterprise Group enjoyed a good reputation and became center of attention in the following decades. The Group related its business to such areas as fuel, textile, hardware & electric materials, machinery, finance and building materials and shaped a group of huge capital with Qixin, Huaxin and Kailuan Mining as its engine.
  The Group initiated by Zhou laid the foundation for the industry in Beijing-Tianjin-Tangshan region. And in the same period Zhang Jian, a renowned capitalist, devoted himself to reviving the nation through developing the industry in Jiangsu and Zhejiang. Thus the two were dubbed as "Southern Zhang & Northern Zhou".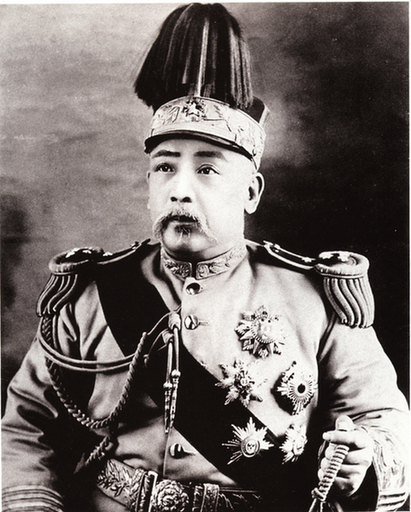 Yuan Shikai
  Yuan Shikai (1859-1916) was born in Xiangcheng, Henan Province. Thus he was sometimes referred to by the name of his birthplace, Xiangcheng. In the late Qing Dynasty, Yuan joined the army and helped promote the Westernization Movement and the spread of new policies. Yuan started his career from a local official. He served as local governor, head of the Grand Council and finally reached the acme of his political career when appointed as President of the Republic of China. After the Revolution of 1911, Yuan seized the fruits of the victory in an attempt to revive the monarchy with himself as the emperor, but ended in failure.
  Yuan started his elusive political career from Tianjin, where he had left big footprints in history. Xiaozhan, located about ten kilometers south of Xianshuigu Town in Tianjin, marked Yuan's career start. In 1895, he took over Hu Yufen as the commander of the New Army, China's first modernized army. On the basis of Dingwu Army with nearly 5,000 soldiers, Yuan organized an army including infantry, artillery, sapper, horsemen and armament by recruiting another 2,000 new soldiers, hiring more German instructors and adopting the German army system. Advanced foreign armaments were equipped and new rules and regulations concerning the soldiers' pay and drill operation were formulated in the army. In order to elevate the soldiers' quality and put the right of military education under his thumb, Yuan established the Field Headquarter Armaments School. In terms of selecting military officers, he carried on the old practice of Hu'nan and Anhui Warlords and trained a nucleus of young officers loyal to him, which laid the foundation for his lifetime career and resulted in the formation of the warlord blocs.
  Yuan took over as Viceroy of Zhili and Minister of Beiyang following the predecessor Li Hongzhang's death in 1901. As a firm supporter of the new policies, he involved himself in the initiation of Beiyang University (the forerunner of Tianjin University) and created a police force in Tianjin, the first of its kind in the Chinese history. Besides, he piloted judicial reforms by founding Tianjin Higher Trial Chamber, County-level Tribunal and Tianjin Procuratorate, drastically changing the old judicial systems. In terms of reviving the industry, Yuan set up a mint, opened banks and established the Zhili Craft Administration which took charge of the industrial revival in Tianjin. His efforts paved the way for Tianjin to become the financial and industrial hub in North China during the era of the Republic of China.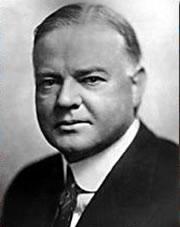 Herbert Clark Hoover
  Herbert Clark Hoover (1874-1964), born in Iowa, was the 31st President of the United States.
  In 1899, Hoover got married to his university classmate Lou Henry. After that, the couple left for Tianjin where Hoover worked as Moreing Corporation's representative in China and was hired by Kaiping Mine as the technical adviser of Zhang Yi, the executive officer.
  Hoover's residence was trapped and under fire for almost a month following the outbreak of the Boxer Rebellion in 1900. During the period, he dedicated himself to the distribution of food and water in the foreign concessions.
  Upon theEight-PowerAlliedForces' incursion into Tianjin, Kaiping Mine was seized by the Russian army. Hoover and the British miner Moreing conducted a secret negotiation with Gustav von Detring, the Mine's acting executive officer and German adviser, behind Zhang Yi's back. The two signed a contract which stipulated that Kaiping's interests and rights be sold to Moreing before they were transferred to Oriental Syndicate Co., Ltd. and later Kaiping Mining Co., Ltd. was founded. Then Hoover and Detring plotted to draft a contract and forced Zhang Yi who was incompetent and still in the dark to sign it up, which turned Hoover sole agent of Kaiping Mining Co., Ltd. As a result, the Qing Government had to resort to the British court to charge Hoover and Detring with stealing Kaiping Mine but didn't take it back after several lawsuits.
  Hoover left China in 1902 and was elected the U.S. president 26 years later.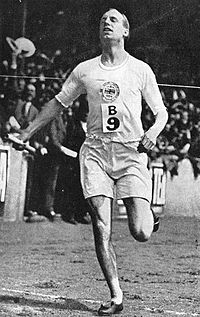 Li Airui
  Li Airui (1902-1945), a Scotsman originally named Eric Henry Liddell, was born in Tianjin.
  In 1907 Li returned to Scotland to receive primary and secondary education. When he studied in the University of Edinburgh, Li was one of the best rugby players in the university club and was later enrolled in the Scottish National Rugby Union Team. In July, 1924, he took part in the VIII Olympics in Paris and became Man of the Games by garnering a bronze in men's 200-meter race with 21.9 seconds and breaking the Olympic record of men's 400-meter race with 47.6 seconds.
  In 1925, Li graduated from the Chemistry Department of Edinburgh University with a Bachelor of Science degree. However, he declined the kind invitations by several British companies and resolutely returned to Tianjin to be a high school teacher in Xinxue Middle School (now Tianjin No.17 Middle School).
  A teacher in Tianjin, Li successfully coached many young Chinese players. He carried off the 200-meter and 400-meter race in an international sports meet held in Dalian in 1928. And he beat the German sprinter Alto Farrisha, the record holder of men's 500-meter race and grabbed a gold in a multinational athletics competition held by the British Concession Authority in Tianjin Minyuan Stadium in 1929.
  During the Anti-Japanese War, Li actively took part in the resistance activities in the rear lines. With the outbreak of the Pacific War in 1941, Li together with some foreign nationals from over 20 countries was imprisoned by the Japanese invaders as hostage in an internment camp in Weixian No.2 Middle School of Shandong Province. Over the three-year life of imprisonment, he never gave in to the ravage and persecution by the invaders. Because of the extremely poor living and medical conditions in the camp, Li died of brain tumor on February 21st, 1945.
  In June, 1991, his three daughters presented Tianjin No.17 Middle School where Li had worked with the gold medal won in the multinational athletics competition and a silver shield as a permanent commemoration of their father.