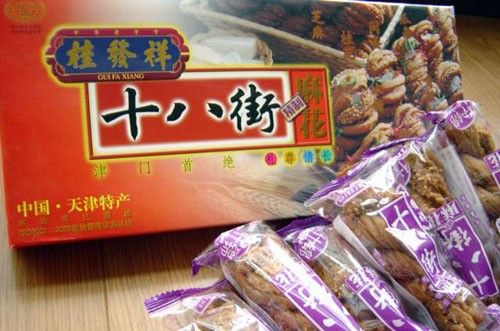 The century-old Shibajie Fried Dough Twister, taking its name from the former Shibajie (No. 18 Street) where its store was once located, is the most authentic of its kind, thereby being hailed as the "Three Distinctive Snacks of Tianjin" together with Goubuli Steamed Stuffed Bun and Erduoyan Fried Rice Cake.
  Shibajie Fried Dough Twister distinguishes itself with the tasty filling with sesame, peach kernel, melon seed kernel, greengage and shredded orange peels. Its making is the innovative inheritance of traditional cookery—the twister is slowly and thoroughly fired in peanut oil and then coated with sugar and shredded nuts.
  Shibajie Fried Dough Twister is golden in color, crisp and sweet in taste, and shapely in form. If stored in a dry and airy place, the preservative-free Twister can be kept for three months in spring and autumn, and two months in summer.
  Shibajie Fried Dough Twister appeals to tourists from both home and abroadas the best gift for families and friends.
  Opening hours: 9:00 a.m.-8:30 p.m.
  Add: 566, Dagu South Rd, Hexi District
  Tel: 022-28309298
  Average cost: 40 yuan