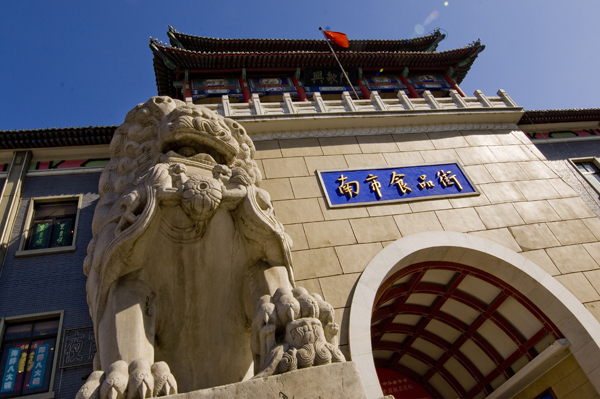 Located in Nanshi Business Area, Heping District, Nanshi Food Street is a diversified catering complex featuring an extensive range of local snack shops and high-end restaurants.
  Nanshi Food Street was built in 1984 and later listed as one of the ^Ten Scenic Spots of Tianjin ̄. Its facade resembles a three-storey classical edifice with imposing embellishments, while its inside takes on a profusion of modern settings. Day or night, Nanshi never fails to be a fascination for both tourists and diners.
  Nanshi Food Street accommodates restaurants with distinctive features. Maji Chatang Restaurant provides a set of Chatang (tea soup) service from Chatang brewing to the performance of quintessential Chatang rituals. Xianheng Restaurant presents both the best Shaoxing cuisine and an exquisite dining environment with local flavor. Deyue Restaurant prides itself on the authenticity of its Suzhou cuisine.
  Nanshi Food Street also contains many well-acclaimed shops selling Tianjin snacks, such as Goubuli Steamed Stuffed Bun, Erduoyan Fried Rice Cakes, Guifaxiang Fried Flour Twisters, Nut-kernel Zhang and Xiaobao Chestnuts. The shops always have themselves marked out by a line of people waiting in a pleasant clamor.
  In Nanshi Food Street, over the doors of many restaurants hang the name boards featuring the calligraphies of famous figures, which not only lends fame and glory to the restaurants, but also gives prominence to the cultural significance of Nanshi.
  At nightfall, when its air is filled with soothing music and the radiance from a sea of neon lights, Nanshi Food Street is comparable to a nirvana on earth.
  Nanshi Food Street finds itself in a convenient location. It leads to several major streets and metro lines in close adjacent, meets two downtown railway stations two kilometers away, and faces Tianjin Binhai International Airport and Jingjintang Expressway to the distant east.
  Add: Nanshi Business Area, Heping District
  Getting there:
   Buses 606, 634, 642, 651, 652, 659, 670, 671, 672, 675, 681, 801, 806, 824, 829 and 840
  Recommended restaurants:
   Shandong flavor!Penglaixiang Restaurant, Juyingde Restaurant, Hualin Restaurant
   Jiangsu flavor!Deyue Restaurant
   Sichuan flavor!E¨mei Restaurant
   Anhui flavor!Gujing Restaurant
   Cantonese flavor!Yangcheng Restaurant, Chaozhou Restaurant, Tianjin Hong Kong Restaurant
   Zhejiang flavor!Zhejiang Restaurant
   Hunan flavor!Jinxiang Restaurant
   Fujian flavor!Jinmin Restaruant