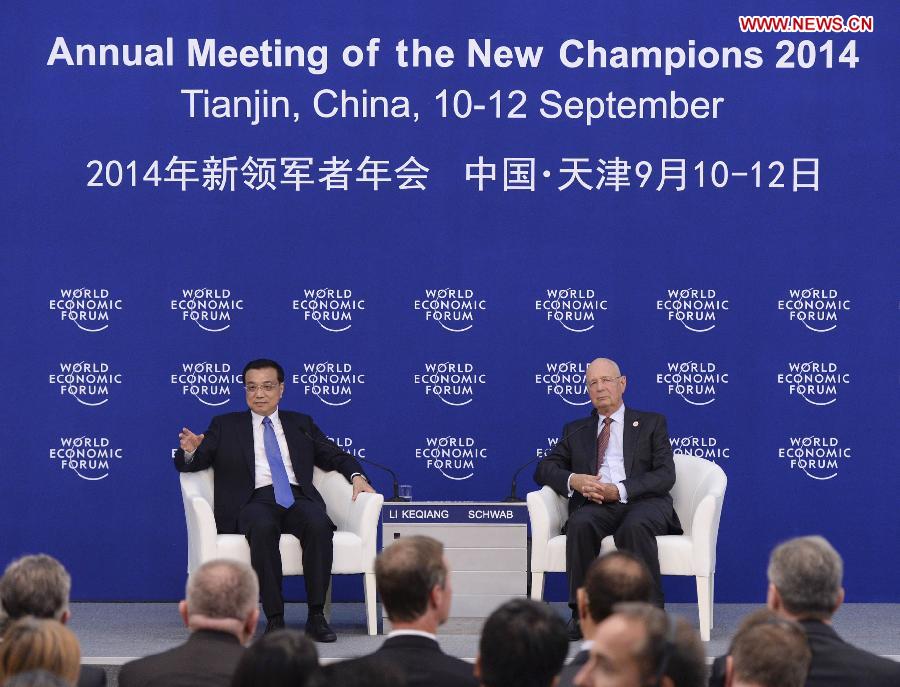 Chinese Premier Li Keqiang (L) and Klaus Schwab, founder and executive chairman of the World Economic Forum (WEF), walk into the conference hall of a meeting ahead of the Summer Davos forum in Tianjing Municipality, north China, Sept. 9, 2014.
  TIANJIN, Sept. 9 -- Chinese Premier Li Keqiang reassured global CEOs Tuesday that China would achieve its GDP growth target of about 7.5 percent despite recent fluctuations.
  Chinese economy is operating within a reasonable range, Li said.
  The premier told his audience at the 2014 Summer Davos in Tianjin that ongoing anti-trust probes in China did not target specific industries or firms, and that foreign companies only accounted for 10 percent of companies involved.
  "Premier Li's answer is very reassuring," said Alcoa CEO Klaus Kleinfeld.
  "The rules apply to everyone," Kleinfeld told Xinhua. "The premier has emphasized very strong desire to create a level playing field."
  REASONABLE RANGE
  The premier believes Chinese economy is on track despite fluctuations in some economic indicators in July and August, since GDP continues to stabilize, the job market keeps improving and inflation is on the low side.
  GDP grew 7.4 percent in the first half of this year with deepening reforms and targeted loosening, but in the last two months, declining PMI, sluggish industrial production and a cooling property market alerted investors to the stability of growth.
  It is inevitable that the economy experiences short-term fluctuations, Li said. The global economy is in a difficult recovery with some key economies performing poorly. China's economic development has problems as well.
  The job market is the top concern of government policy, Li said, citing that in the first eight months, new urban jobs reached nearly 10 million, slightly below the target for the whole year.
  The annual growth target is around 7.5 percent. "Around" here means slightly higher or lower rates are acceptable, as long as employment, incomes and environmental protection improve, he said.
  China had resorted to "strong reform" instead of "strong stimulus" to spur the economy, Li said.
  While keeping the total money supply stable, decision makers will be focused on restructuring the supply, which means the government will put more money into agriculture, small and micro businesses, emerging industries and hi-tech businesses, Li said.
  "As we are restructuring instead of expanding the monetary supply, current monetary policy is sustainable," the premier said as he stressed the importance of easing access to financial markets, and developing small, medium and private banks. Reforms of interest and exchange rates, a multi-layer capital market and lowering leverage rates are important to controlling money supply.
  "The course of reform will not run smooth, because it will stir the interest rates, just like short-term fluctuations in the economy," Li said.
  Reform in the past years has been carried out unremittingly, in a step-by-step manner, but the government has increased reform measures since last year.
  "The economy is moving in the right direction," said Sashikiran Shetty, executive chairman of Avvashaya Group, an Indian logistics enterprise.
  LEVEL PLAYING FIELD
  Li told the CEOs that anti-trust probes had not singled out foreign companies. A series of probes into big foreign names in recent years, the latest against Microsoft and Jaguar Land Rover, have sent ripples across Western business circles and stirred unease among those firms who perceived unfair treatment.
  Apart from anti-trust investigations, China also cracked down on theft of trade secrets, intellectual property rights infringement and counterfeiting, the premier said, stressing that these measures do not target any particular firms. The amount of attention given to the probes is a result of increasing transparency on the part of the regulators.
  The regulative measures, including anti-monopoly probes, are in accordance with the law, transparent and fair, the premier said. It benefits China because foreign firms and products will be more likely to enter the Chinese market if the environment is perceived as fair and competitive.
  By cutting red tape and strengthening monitoring in the past year, China has tried to cultivate an easy, fair and competitive business climate, the premier said.
  The premier, however, said companies should abide by the law and commercial ethics, calling them to do business fairly and give customers reasonable prices.